I've had the lovely chance of chatting to Christina Kline. Some of you may know her as the founder and CEO of Rocket Pig Games.
They are the ones with the supportless mini's that most people don't believe is actually printed on an FDM printer.
I've printed some of them myself, and it's really amazing to see the creativity and effort that goes into these designs.
Let´s get right into the interview
First of all, tell me a bit about yourself:
Nice to meet you all! Rocket Pig Games was formed to fill a gap in the gaming community.
We have always been a tabletop gaming family. We originally bought our first 3D printer to make parts for paper terrain but after purchasing different 3D terrain sets, decided that we could make better terrain, more modular terrain, and roomier terrain for heroic-sized miniatures!
This was something that was missing from the community and we new we could do it!
How and when did you join the RPG modeling community:
Our company was created in 2016 but we have been in the 3D modeling industry for over 20 years.
After our first successful Kickstarter, things exploded for us. We made a massive 3D terrain project (Gothic City) and with that, people could create virtually anything they needed for a city/dungeon area.
There are hundreds of files within those sets alone.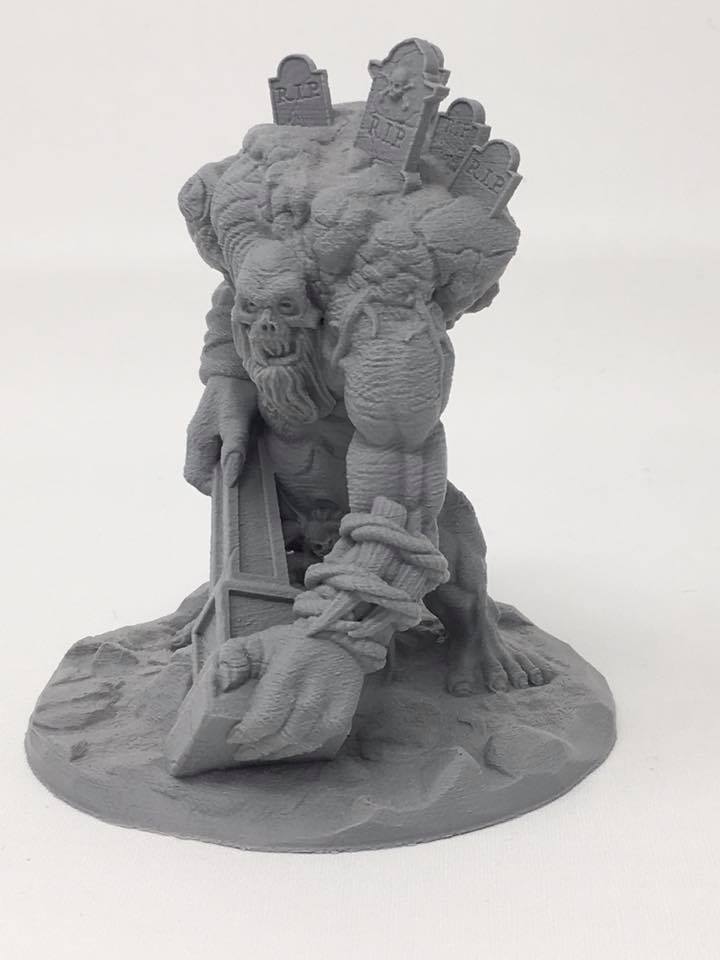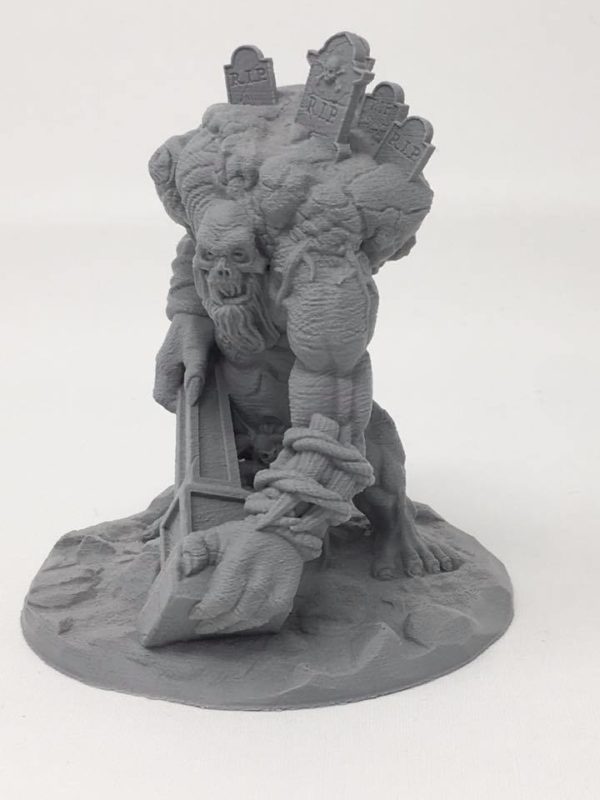 Why did you start modeling terrain:
With so many people coming into the 3D printing community, we wanted to create incredible miniatures that require absolutely NO supports…so that's what we do now!
We have two great patreons. Monster Miniatures is for Dungeons and Dragons type miniatures and Death Haven is for our own world, which are all dark fantasy, Deluxe miniatures. Being support-free, they are great for anybody and there are no headaches or clean-up involved!
How long does it take to model from start to finish:
The time it takes us to create a miniature or terrain varies greatly. Everything needs concept art before modeling.
Depending on the size of the miniature it might need to be sliced and pegged. It could literally take anywhere from 4 or 5 hours to several days per model. The entire Gothic City project took about a year.
Tell me a bit about your current kickstarter:
Our current Kickstarter, Monster Miniatures, is an extension of our Patreon (www.patreon.com/rocketpiggames).
There are tons of amazing support-free minis being offered, along with a huge Dragon collection that are all Epic Model Kits.
As a matter of fact, if you are pledging at the Huntsman reward level and a patron during the months of October and November, you'll get unlocked Patreon Bonus miniatures!
You are making a ton of miniatures.
Which model are you most excited about and why?
The Dragons are absolutely amazing! We have a Dragon God model with a 5′ wingspan so it's pretty incredible.
However, some of the regular guys are my favorites. One of the best is the Cadaver Collector from the Undead core set.
The detail is incredible…the little bodies impaled on his back are just too much!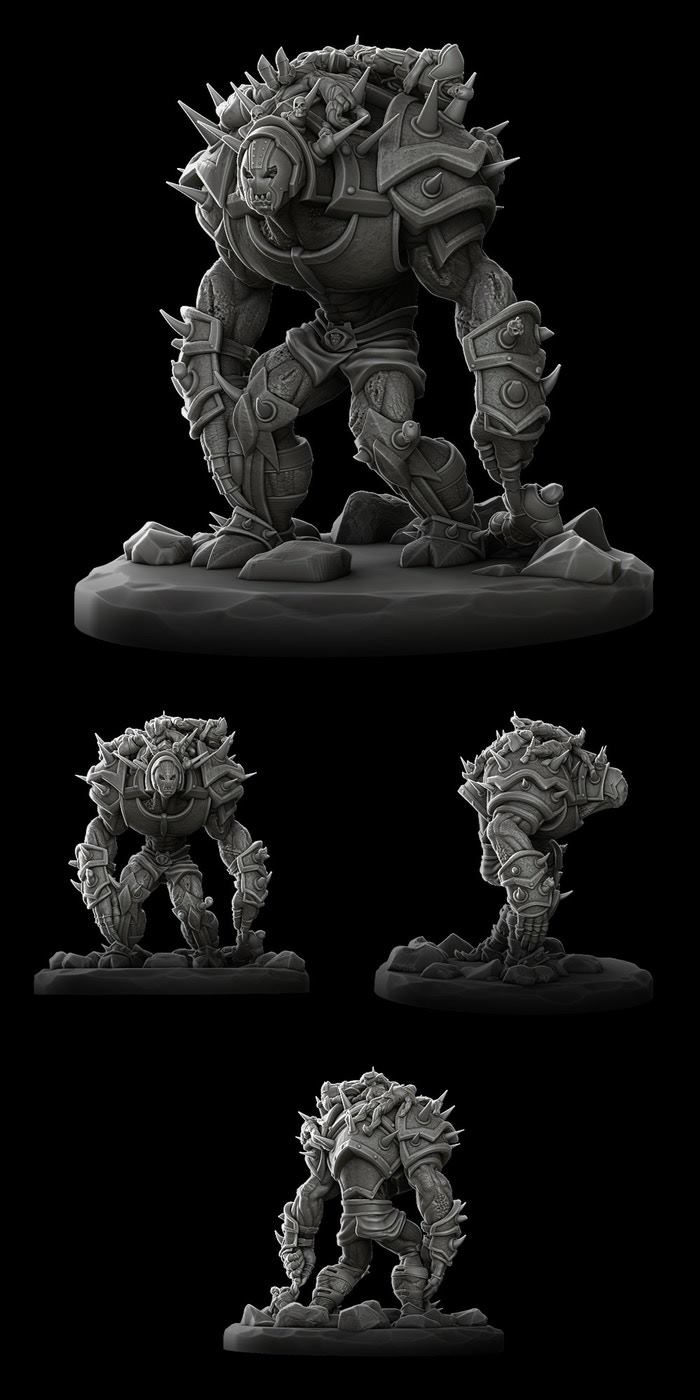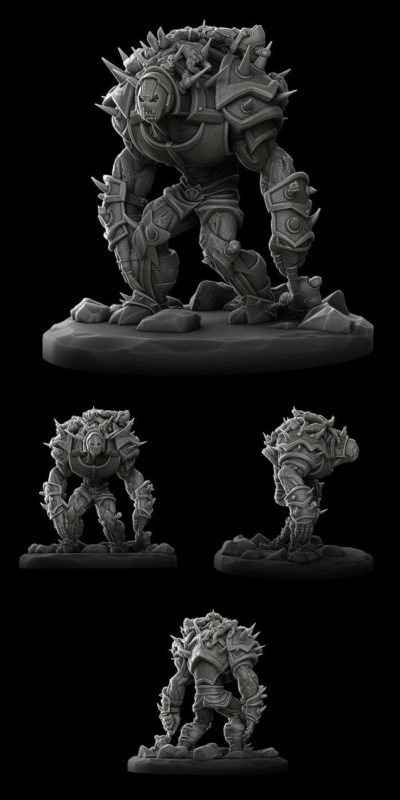 Most mini's are printed on a resin printer. You are focusing mainly on FDM printers (and definitely pushing the boundries for how people used to look at models for FDM printers).
Why is that?
Back in 2016 when we began, resin printers were far more costly and most home studios didn't have one. Even now, lots of people don't want to deal with the mess, fumes, or complexity of resin printing.
We want to make printing fun, exciting, and accessible for everyone with a printer. Most of those people have FDM printers.
By creating high resolution miniatures that look great and print easily on any type of printer, we can cater to everyone. By making all of our miniatures support-free, they are easy to print and a joy to behold…right from the second it's finished printing! All of the miniatures you see in our Kickstarter or on Facebook are straight off the printer bed; no touch up or clean up at all.
And finally – whats up with the pigs?
Why are they your focus for when you do charity, and why are they so damn cute?
Last but certainly not least are the pigs!
Everything we do at Rocket Pig Games is for the pigs, literally! My main purpose in life is to be a voice for those who need it most.
There are tons of organizations who work on behalf of children and animals like dogs and cats. Not many people realize the need for advocacy in the lives of farm animals. I don't want to get heavy on you here but please give a thought to what you put on your plate and how it got there.
Animals like cows, chickens, and pigs have complex relationships within their species and with other species. Pigs are the 4th most intelligent creature on earth behind elephants, dolphins, and apes.
They are absolutely amazing companions. We have donated thousands of dollars to rescues and sanctuaries because of you guys, our customers.
We can only do it because of you…your support is felt by needy animals all over the United States in the form of medical care, food, bedding, and transport. On behalf of them, thank you for being a friend to Rocket Pig Games.
Wow. Just wow. Christina is, as you can probably tell, pretty awesome as a person as she is an awesome creator.
You can find her now on her:
Patreon – www.patreon.com/rocketpiggames
Website – https://www.rocketpiggames.com/
Current kickstarter: http://kck.st/2IXJRIL

And right here on this site:
https://rollhistory.com/creator/listing/rocket-pig-games/

She also gave us a coupon code for the shop for you guys. If you have ever wanted to print a dragon, demon or even that Cadaver Collector for when it hits her site, now is your chance.